Very dense terrace glazing with a vertical framework
Alutec Dense is a terrace glazing solution with overlapping panes that slide sideways and a vertical framework. The glazing profiles have a modern and stylish shape. Despite the graceful profiles, the glazing is sturdy and very dense. There are no gaps between the profiles, so the glazing provides effective protection from the weather, noise and debris. Thanks to its technical solutions, the glazing product is quiet and light to use. Even though the Dense glazing turns a terrace into a room-like space, using outdoor furniture on a terrace is still recommended.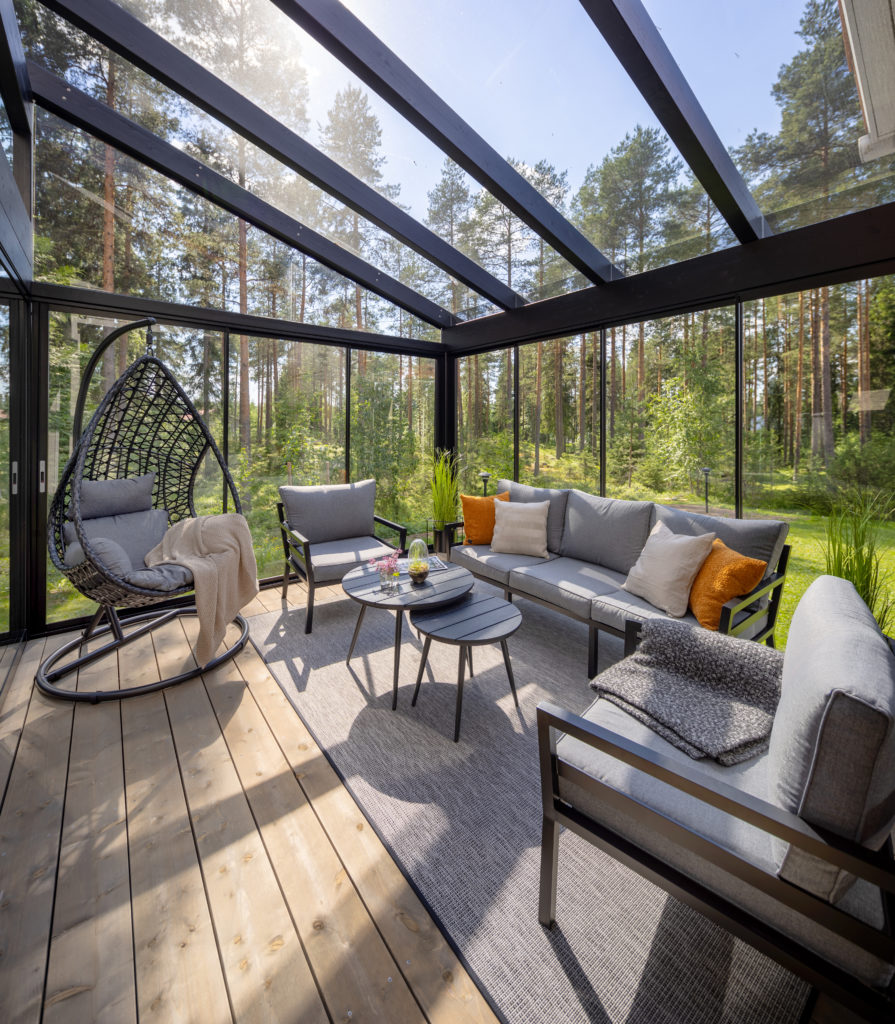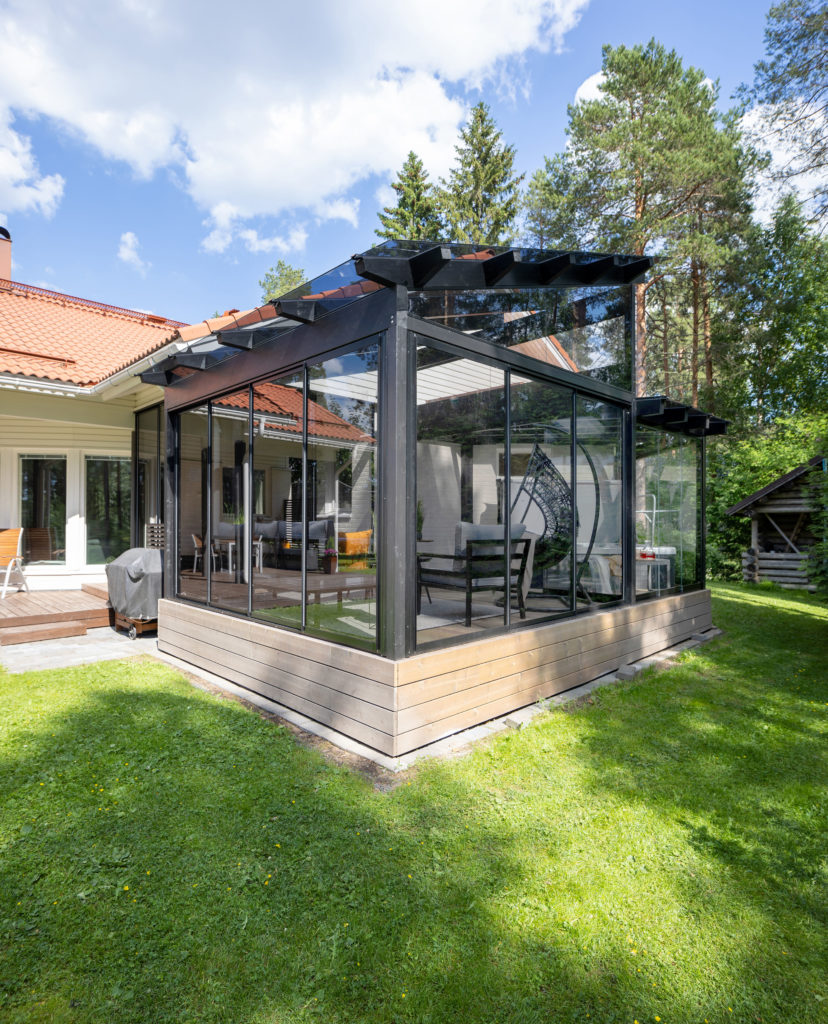 Graceful profiles
Dense's profiles are high quality and allow even large individual glass elements to be installed. This enables us to cover as much of the opening with glass while avoiding distracting profiles, despite the vertical framework.
The width of the graceful vertical profiles of Dense glazing is only 27.5 mm when the glass panes are closed.
A horizontal profile that cuts off the glass at the desired height is also available for the Dense glazing solution.
Glass options for terrace glazing
Dense glazing uses either 4 mm or 6 mm toughened safety glass. You will have a say in what type of glass is chosen during the terrace's design phase. However, the choice also depends on factors such as the total height of the glazing. Instead of clear glass, you have the option of choosing grey or brown glass, for example. It is also possible to use so-called milk glass to give more privacy. This type of glass can also be used for only a part of the terrace.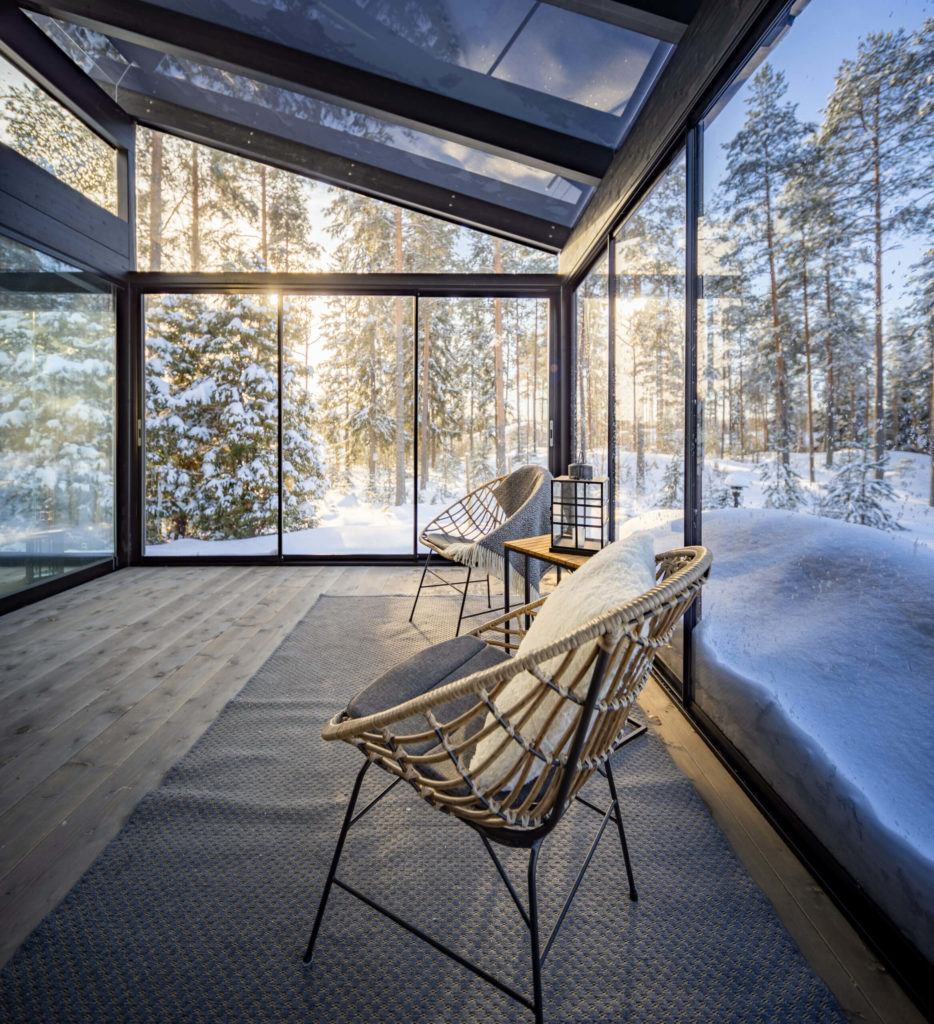 Compatible accessories
Compatible products
Other similar products
Alutec's stylish Dense terrace glazing products are sold by our trained retailers all over Finland. Schedule a free evalution with our nearest retailer.
Technical information
Glazing with a framework, where all glass elements have been framed with aluminium profiles
The width of the vertical frame is only 27.5 mm
The glazing uses 4–6 mm toughened safety glass in accordance with standard SFS EN 12150

When 4 mm glass is used, the maximum height of the glass element is 2500 mm
When 6 mm glass is used, the maximum height of the glass element is 2800 mm
the recommended width of an individual sliding glass element is 800–1000 mm, and the maximum width is 1000 mm

Silder rail versions with either 2 rails or 4 rails are available

The number of rails in the slider rail is chosen based on the width of the glazed opening and the desired number of glass elements

Profiles are available in three standard colours:

RAL 7024 dark grey
grey
black
RAL 9010 white
can be painted in any shade on the RAL colour chart

Drainage in bottom rail
The bottom railing can be completely embedded in e.g. the terrace floor