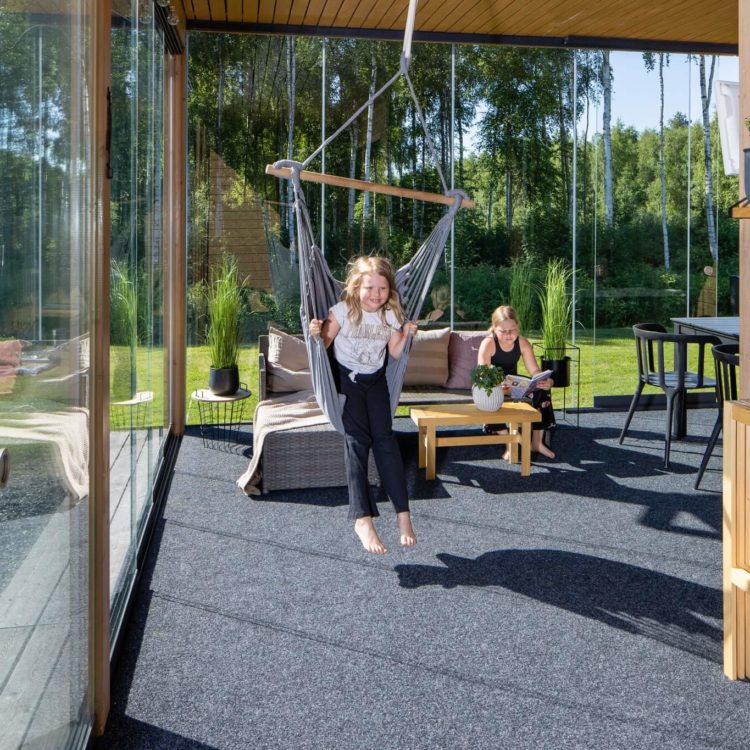 Terrace glazing
Alutec terrace glazing makes life more comfortable.
Terrace glazing makes year-round use of the terrace possible – even when the weather is bad. Glazing prevents the wind, snow, dust or dirt from reaching the terrace. Terrace glazing also reduces noise and protects furniture and terrace structures.
Stylish Finnish terrace glazing for every home and every summer cottage
Alutec terrace glazing is a good fit for single-family homes, townhouses and summer cottages. Terrace glazing can be installed both by using a traditional vertical framework or glazing without a vertical framework, which leaves the view entirely unobstructed. Our terrace glazing products are always manufactured according to the property's exact specifications to ensure a seamless and appropriate fit.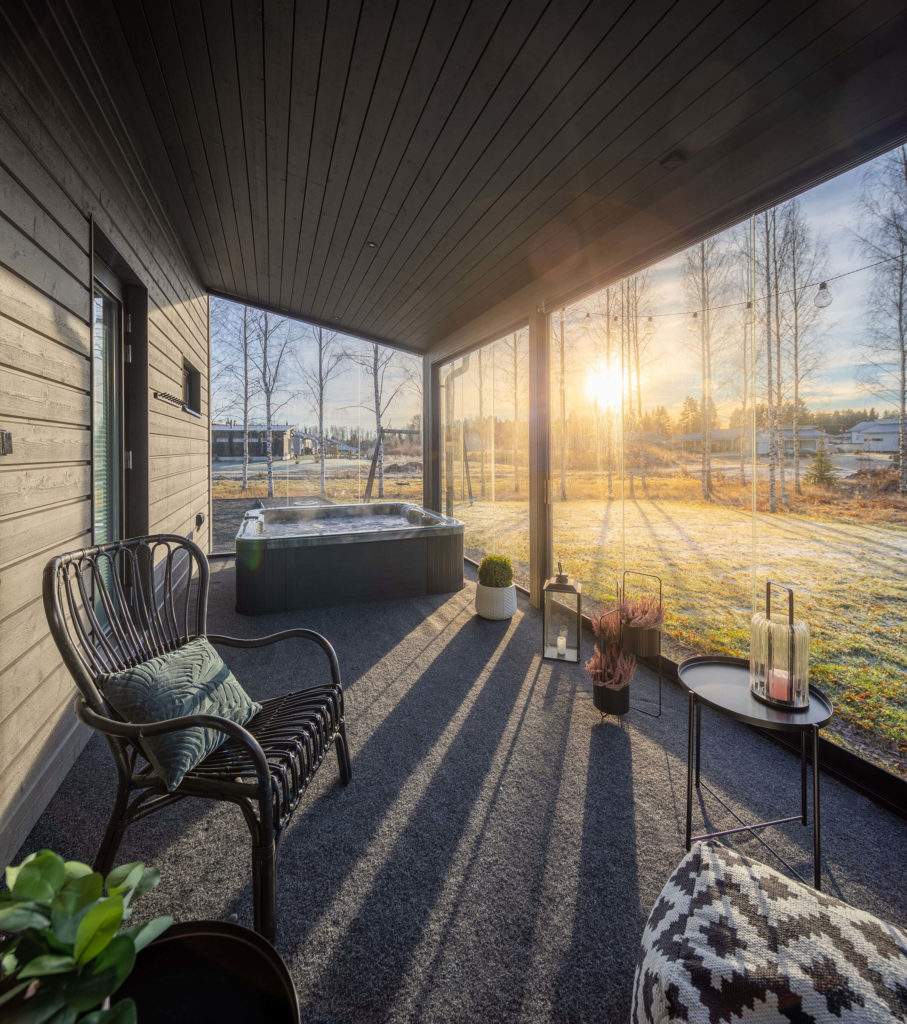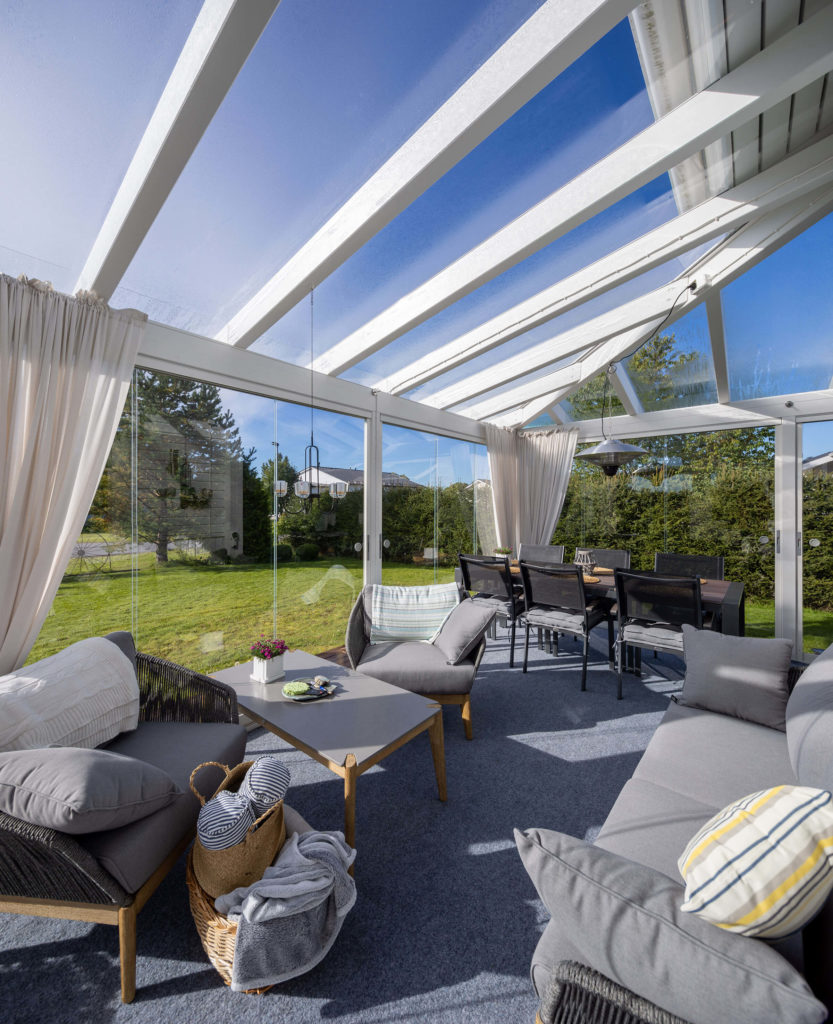 Extend your summer with terrace glazing
When it gets hot during the summer, you can open the glass panes to enjoy the beautiful summer weather. When it rains in the autumn, the glass panes can be closed, which means that you can continue using the terrace.
You will be able to start using the glazed terrace already in early spring and to continue doing so until late autumn. Using a heater allows the period of use to be extended even further. The terrace glazing protects furniture from rain and pollen, which means that there is no need to use protective covers. When furniture does not need to be stored elsewhere in winter, more storage space is freed up at home. However, it should be noted that even a glazed terrace is still an outdoor space, which means that water or snow could get onto the terrace during hard winds or rainstorms. Any furniture should, therefore, be weather-resistant.
Tax credit for household expenses – terrace glass
Constructing a terrace and installing terrace glazing entitles you to receive a tax credit for household expenses in Finland. Our retailers will indicate the amount entitling you to tax credit for household expenses on the invoice.
Quality, safety and maintenance of sliding glass panes used on terraces
Alutec's terrace glazing products are Finnish, and they have gone through safety testing. Their wind pressure resistance and impact resistance has also been measured. Our glass terrace products have a CE marking, which means that they have been tested and approved in accordance with the product standards defined by the EU. The glazing can withstand changing seasons and weather conditions.
Aluminium and glass structures inherently require almost no maintenance at all. During product development, we have focused on quality, details and ease of use.
Alutec glass terraces are sold by our retailers all over Finland – contact us to learn more!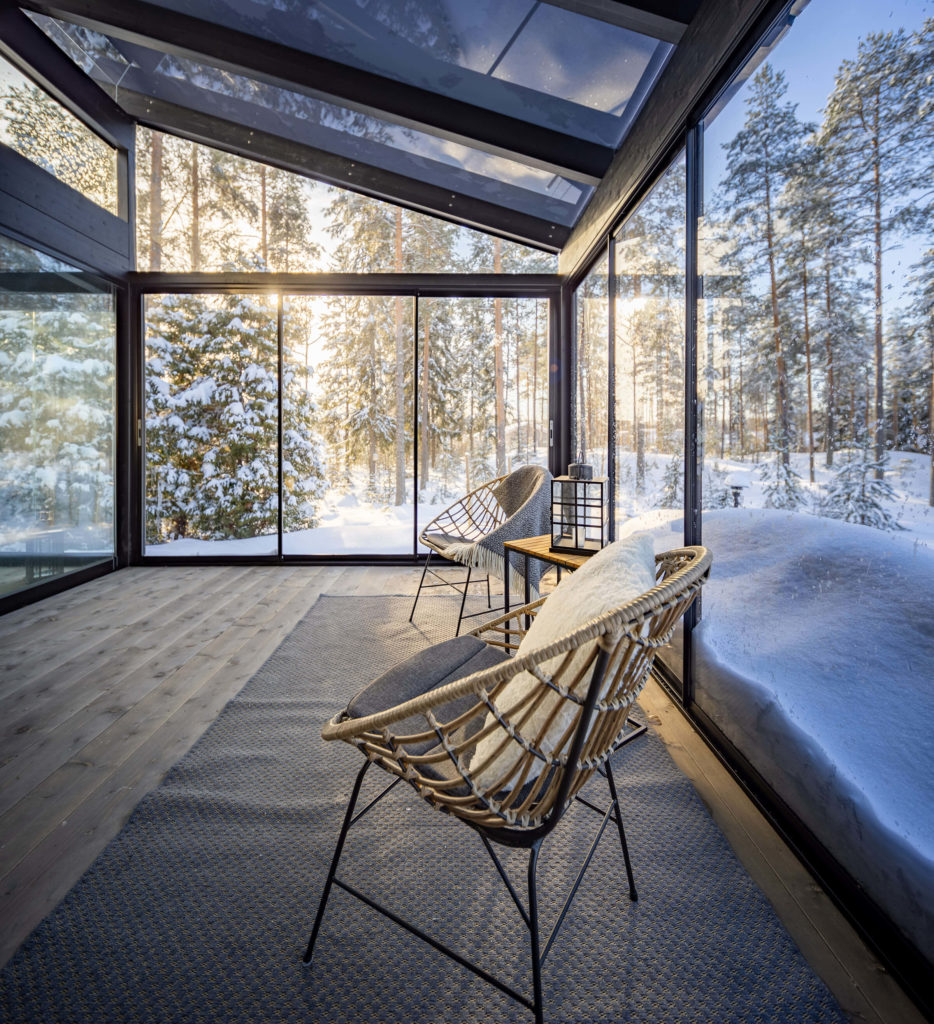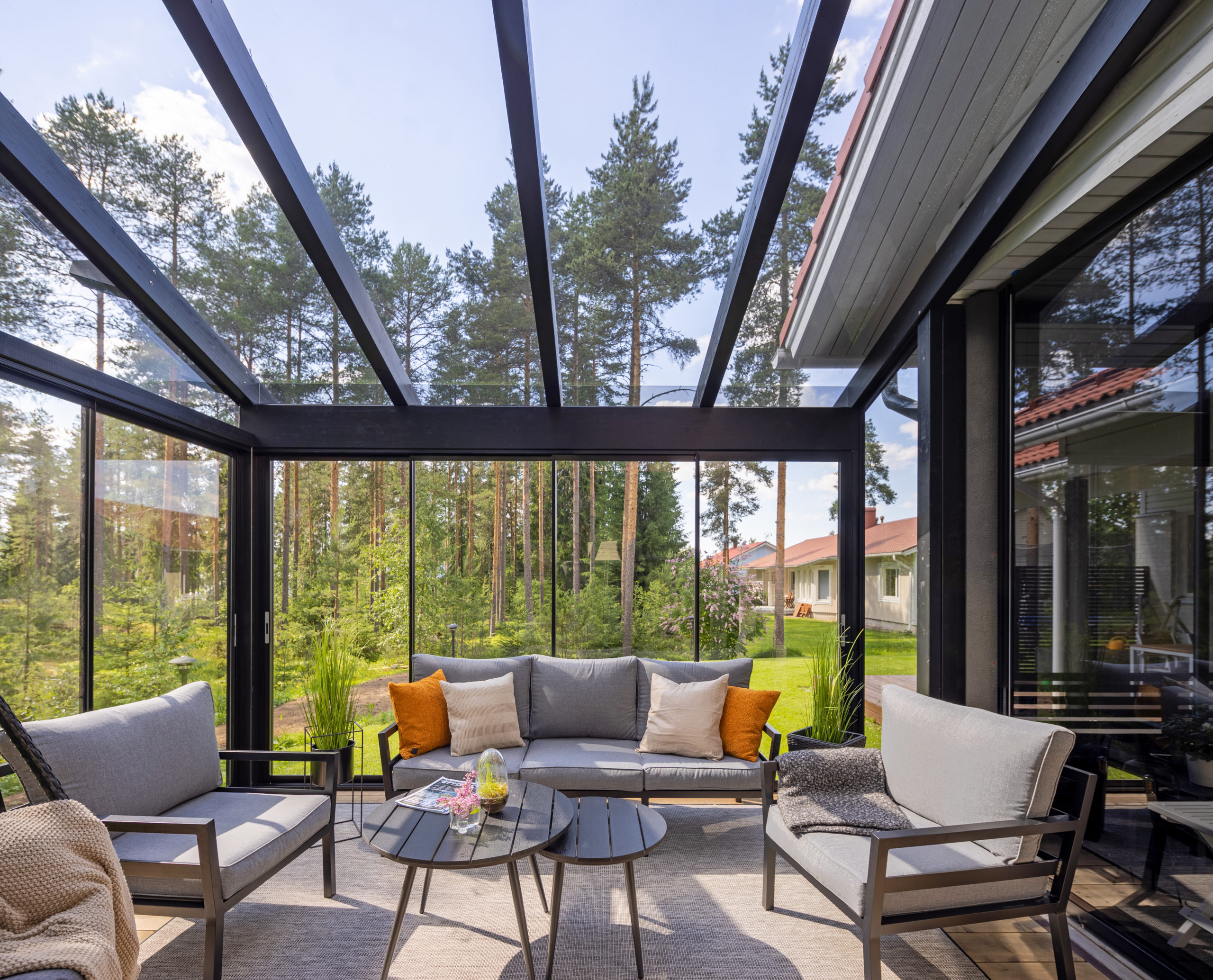 High-quality Alutec terrace glazing solutions are sold by our trained retailers all over Finland. Schedule a free evalution with our nearest retailer.
How to buy terrace glazing
Contact us
Contact our nearest retailer and schedule a free evaluation.
Designing the glazing and drafting a quote
Our retailer will design a terrace in accordance with your wishes, while taking the specific requirements of your home into account. You will be given a quote for the glazing.
Manufacturing and installation
The terrace glazing will be manufactured at our factory in Ylivieska, Finland. Our retailer will install the terrace glazing at the agreed on time. The installation will take one to three days.
Enjoy!
You will now be able to enjoy your new, room-like outdoor space! Our retailers will provide instructions on how to use and maintain the glazing. If there is a need to adjust profiles or fix other parts of the glazing after installation, our retailers will be happy to assist you.
Our terrace glazing options
Terrace glazing accessories
Browse our glass terrace gallery for ideas