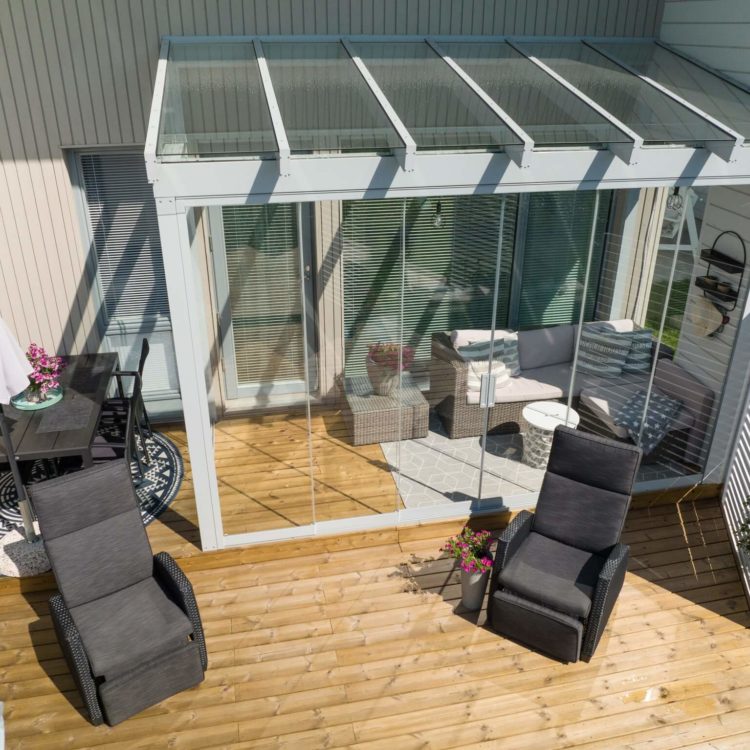 Glass terraces
Combining the Alutec Vista glass roof system with Alutec terrace glazing products enables the construction of a living room-like space where you can be close to nature but still protected from the weather.
A glass terrace is a comfortable living space, and thanks to the protective glass, it can be decorated for various kinds of uses as an extension of your indoor spaces. Elements from both the garden and from indoors can be introduced to the glass terrace, blurring the lines between the different spaces.
A glass terrace allows you to spend time outdoors and admire the view, regardless of the weather. Heaters, in particular, make it possible to extend the terrace season from very early spring to very late autumn.
A glass terrace also frees up storage space, because furniture does not need to be stored elsewhere for the winter. In the spring, you can enjoy your terrace without needing to carry out a massive cleaning operation after winter. You will also not need to be constantly cleaning pollen off the surfaces.
A terrace made entirely out of glass can be built by combining the Alutec Vista glass roof system with either a terrace glazing product with a vertical framework or a product without a framework. It is also possible to combine a glass terrace with solid glass elements, railings and balcony glazings installed on top of railings.